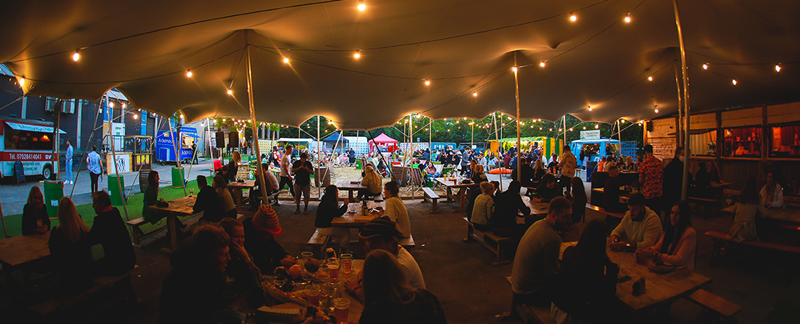 The Canopy
Standing proudly in the centre of The Forest, The Canopy will quickly become your favourite bar on campus. Kitted out with it's own stage and container bar, expect to see club nights, DJ sets and other entertainment put on here across term 1.
It's the perfect place to meet friends, kick back and watch the sunset as The Forest begins to come alive at night.
Cocktail Menu
The Forest Opening Times:
First day open: 26th Sept
Mon - Sun: 6pm to 10pm
Please note: these are the licensed hours when food and drink will be available at The Forest venues. Other specific events may take place outside of these hours in the day time.
Staying safe in this venue
You'll be asked to register your details at the entrance for track and trace purposes.
Your temperature will be taken upon entrance.
You can dine or sit at a table with up to 6 people (including yourself). This applies to both indoor and outdoor venues or seating areas.
If you're not eating or drinking whilst in our venues, you must wear a face covering unless you're exempt.
Please ensure you're regularly washing your hands for at least 20 seconds.
Together with the University we've worked hard to be able to bring you the spaces, opportunities and tools to use so you can still experience all York has to offer safely in Term 1. By following the above, you're helping to keep everyone safe and make the good times last.
Upcoming Events at
The Canopy
Events coming soon!